A massive thank you to Paige
Paige Milward has completed her GREAT GLENCOE CHALLENGE and in an amazing 7 hours and 6 minutes.
Here's Paige with her very proud dad
Please show Paige your support by donating using the link below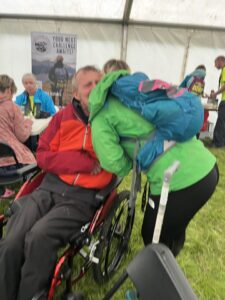 Here is what Paige had to say on her Facebook page
FINISHED
7hrs 6mins / 1300m ascent / 26.2 miles
2nd Female and 7th Overall out of 500+!!!
What a challenge all for
Headway Northstaffs
Thank you so so much for everyone's support and donations, it really does mean the world. I have managed to raise over £1000 which I am super happy with!!! If anyone has any further last minute donations –
https://gofund.me/905ec728
It certainly was not easy and I left all my effort on the trail… the weather was typical Scottish and we basically climbed the height of Ben Nevis! But I am so proud of my time and what I have achieved. All to carry on our moments as a family
WHAT A CHALLENGE!!! THANK YOU!