Make A Difference!
You Raise Me Up is the song chosen by Headway North Staffordshire to depict the journey for anyone having suffered a brain injury and the fight to regain independence.
On 24th June 2015 members, carers and families get the chance to celebrate individual successes and highlight the long battle faced by people with a brain injury. Joining us will be professional's from the Brain Injury Pathway including the trauma unit at the Royal Stoke Hospital and the Haywood Hospital.
Headway North Staffs wants to bring all these people together for the day to raise awareness of brain injury and those involved in their care.
Headway North Staffordshire offers support at early intervention stages, working closely with families and their love ones, supporting with trauma and the rehabilitation process.
Recovery from a brain injury can be a long process that can affect both mobility, cognitive and in some cases both. Unlike a broken leg there is no date given when you will fully recover and every individual is different. It can be a very long road to recovery and support is so important to everyone involved.
St John's Community Choir will be visiting Headway to do a one off performance of their newly recorded song You Raise Me Up. The proceeds from the event and CD sales will be going to Headway North Staffordshire. The choir led by Mr Justin Clarke, come from St John's Primary School Wetley Rocks and Moorside High School Cellerhead.
Our main sponsor for this event at Headway is Michael Jefferies Solicitors who has very kindly supported us for some years now and are ongoing in providing much needed advice and support to many of our members and their families.
A big thank you JST Coaches telephone number 01283 244071, based in Uttoxeter who have come to our aid in transporting the children to Headway House on the day.
A video recording of the performance will be available to view on Youtube shortly after.
We have also set up a Virgin Money Campaign Page to coincide with the performance, and CD Launch, to encourage as much support as possible for this one off event.
If you would like to make a donation please click below…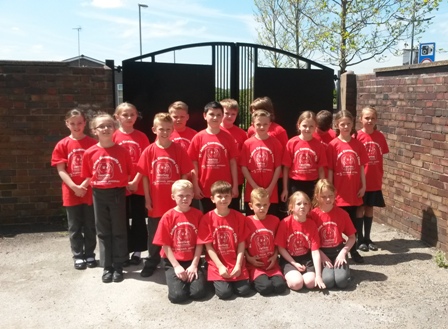 A big thank you to St John's Primary School.
At their summer fayre they sold cakes raising £60 towards the "You Raise Me Up" Campaign. Also many thanks to the anonymous donors who paid the studio costs for the recording.
Above: St John's Community Choir recording at Prism Studios, Hanley, Stoke on Trent. June 2015